Sadly, yes, this is only one issue families of nursing home residents have to worry about as it occurs in facilities located all across the U.S.
Although most people assume nursing home staff members are the only ones who inflict harm and are guilty of abusing the residents they should be caring for, residents themselves have also been found guilty of inflicting harm upon one another as well. Aside from being combative and verbally abusive, residents themselves can also serve as a physical threat to the residents they are living with. While some residents are known to be violent towards their elderly "neighbors," others have been recognized for becoming sexually aggressive.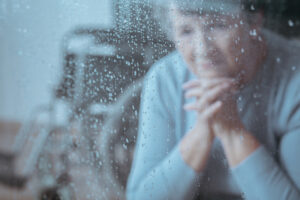 According to the U.S. National Library of Medicine, evidence has even revealed that "the most sexual aggression against older adults occurs in long-term care facilities" and "fellow residents are the most common perpetrators, often due to inappropriate hypersexual behavior caused by dementing illness." When a resident becomes sexually aggressive towards another, it is referred to as resident-to-resident sexual aggression (RRSA). RRSA has been defined as "sexual interactions between long-term care residents that in a community setting would likely be construed as unwelcome by at least one of the recipients and have high potential to cause physical or psychological distress in one or both of the involved." Essentially, RRSA carries the same meaning as sexual assault which has been defined as "non-consensual physical contact of a sexual nature, not necessarily involving intercourse."
The source cites that one of the reasons why sexual aggression is common among the elderly who are living in nursing homes is because it is a challenge to prevent and manage "due to the legitimate and recognized need for nursing home residents, even those with an advanced dementing illness, to sexually express themselves." Despite this reasoning, no resident should ever have to be subjected to such abuse. Aside from this explanation, RRSA also occurs in nursing homes because (1) there is a lack of staff available to monitor the residents and (2) the staff that is hired is often careless or inattentive.
Signs That Your Loved One Might be the Victim of RRSA
Below are some signs CNN highlighted that might indicate your loved one is being sexually assaulted or the victim of RRSA:
They have developed a new difficulty with sitting or walking.

They have bruising around their inner thighs, genital area, or breasts.

They have developed a genital infection that cannot be explained.

They experience vaginal or anal bleeding, pain, or irritation that cannot be explained.

Their clothing is torn, stained, or bloody.

They suffer from panic attacks or Post-Traumatic Stress Disorder (PTSD) symptoms.
Because RRSA is one issue that is rarely reported on or recognized, it is important that the family of a nursing home resident take the time to visit them regularly and look for any signs that might indicate they aren't being treated properly. If, at any point, you find that your aging relative is being mistreated, abused, or neglected by the staff or another resident in a Chicago nursing home, you are encouraged to contact Dinizulu Law Group, Ltd. to speak with a trusted and experienced Chicago, IL nursing home abuse attorney.
Our firm has represented many families who have discovered that their loved one wasn't receiving the care they expected while living in a nursing home facility in IL and we are ready and available to help you too. Simply give us a call to schedule an initial consultation so that we can learn more about you, your loved one, and the issue you are experiencing, and we will devise a plan on how we can address it accordingly.
You can contact Dinizulu Law Group, Ltd. at:
221 North La Salle Drive, Suite 1100
Chicago, IL 60601
1-312-384-1920
Website: www.dinizululawgroup.com