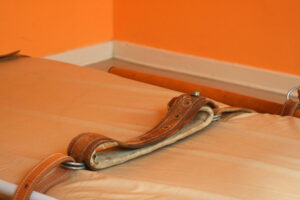 A large number of nursing home residents who are admitted into a facility suffer from one or more medical conditions that can cause them to become combative, violent, and noncompliant. Nursing home staff members are expected to be trained to handle these residents in the proper manner so that they are able to deescalate a situation when one might arise so that they can continue providing the care the resident needs. Unfortunately, some staffers may choose to rely on other methods they aren't allowed to employ to gain control over the situation.
We are talking about the use of restraints.
According to Sec. 2-106 of the Nursing Home Care Act, "a physical restraint is any manual method or physical or mechanical device, material, or equipment attached or adjacent to a resident's body that the resident cannot remove easily and restricts freedom of movement or normal access to one's body." To be clear, any device that is being used for positioning such as bed rails, gait belts, and cushions are not considered to be a "restraint" that restricts a resident from moving. Many of these devices are actually used to lift residents as well as help sit them back down.
While there are plenty of devices that aid staff members when they need to maneuver a resident from one place to another or to shift their position, many will turn to restraints when dealing with a resident who may not listen to their requests or isn't complying. They often do this as it makes their job "easier" and is a convenient way to help gain control over the resident. However, according to the Nursing Home Care Act, staffers should not be using chemical restraints (i.e. medications) or another type of restraint or confinement for convenience purposes when dealing with a resident who simply doesn't want to listen.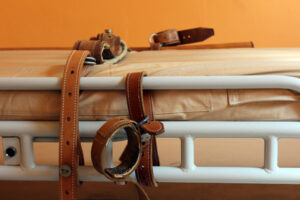 For example, many nursing home residents suffer from some form of dementia that might cause them to become angry, lost, or confused. Rather than have to deal with someone who might wander or talk back, there are staff members who will administer large doses of medications to sedate them, but are not required to treat their medical condition. Others may rely on physical restraints as well.
When can restraints be used?
The Nursing Home Care Act states that the only time restraints are permitted is:
When the staff has received the informed consent from the resident, the resident's guardian, or another authorized representative.

When they are used for specific periods and "if it is the least restrictive means necessary to attain and maintain the resident's highest practicable physical, mental or psychosocial well-being, including brief periods of time to provide necessary life-saving treatment."

"After consultation with appropriate health professionals, such as occupational or physical therapists, and a trial of less restrictive measures has led to the determination that the use of less restrictive measures would not attain or maintain the resident's highest practicable physical, mental or psychosocial well-being."

In the event the resident requires emergency care, restraints may be "used for brief periods to permit medical treatment to proceed unless the facility has notice that the resident has previously made a valid refusal of the treatment in question." 
Nursing home staff members are not permitted to use restraints for purposes of keeping residents sitting down all day. Because of the hectic schedule a staffer has, some will employ the use of a physical or chemical restraint just so they don't have to go back and check on that resident. Not only can a staffer be held accountable for this type of behavior, but also a physician if they were to allow it to occur.
Is your parent or grandparent who is living in Chicago, IL being physically or chemically restrained without permission or for convenience purposes?
If so, you may have a viable nursing home abuse case on your hands and our attorneys at Dinizulu Law Group, Ltd. want to help you recognize the facility for their inappropriate behavior. Although there are times when physical or chemical restraints may be required for the benefit of your loved one, there are plenty of other instances where staff members aren't using them properly thereby forcing your loved one to have to sit or stay confined to one area for hours. And if these are the circumstances you are currently dealing with, it is time you speak with one of our knowledgeable and trusted Chicago, IL nursing home abuse lawyers.
We can help you understand what your loved one's legal rights are as a resident and what you can do to help them combat the abuse they are being subjected to. To learn more about how we can assist you, contact us today at 1-312-384-1920 to schedule a consultation so that we can discuss your matter in depth.
You can contact Dinizulu Law Group, Ltd. at:
221 North La Salle Drive, Suite 1100
Chicago, IL 60601
1-312-384-1920
Website: www.dinizululawgroup.com