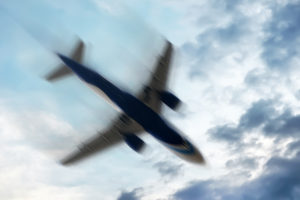 On average, 11.5 people are seriously hurt in a U.S. air carrier-related accident each year; approximately 72 are killed, according to the National Transportation Safety Board (NTSB). Of course, there are thousands more taking to American skies in other aircraft, and preliminary NTSB data for 2011 show that more than 3,100 aviation accidents occurred in the United States.
Travelers across the U.S. are injured in private and commercial airplanes because of a number of factors. Although traveling by plane is extremely convenient and statistically safer than traveling by car, there are inherent risks to this mode of transportation, and when an airplane crash happens, it's highly likely the damage will be severe. When airplane accidents happen, the victims and their families deserve justice.
Commercial airplanes are governed by the regulations affecting common carriers and are governed by different laws and protocols than are private airplanes or other private vehicles. A common carrier is a business that transports persons or cargo for compensation. Both Federal and State regulations govern the activities of common carriers such as buses, trains, and airplanes.
As a general rule, a common carrier is held to a higher standard of care than is a private party. They must have both the skill and the training to transport passengers and cargo, and more than reasonable care must be exercised.
When an airplane crashes, the first area of information must be to discover what caused the crash. This can be difficult, since much evidence can be destroyed, including signs of mechanical failure or pilot error. Some of the causes of crashes include pilot error, which is the most frequent cause; design flaws; mechanical failure; and extreme weather conditions. It is vital that whatever evidence is available be collected and studied so that the cause of the crash can be determined. Once this is done, it will be possible to decide if basis for a lawsuit exists.
The Dinizulu Law Group, Ltd. is determined to pursue justice for all victims of aviation injuries. We recognize that in many aircraft accidents, the cause often has to do with pilot errors, product failure, faulty aircraft parts or negligent maintenance of the aircraft. If your family has been devastated by such a tragedy, we may be able to help.
Find out about your legal options today – simply fill out the FREE Case Review form and we will contact you. It's 100% confidential.
Causes of Aviation Accidents
Unfortunately, most aircraft accidents end in death. Some victims are able to escape with serious injuries, but may require long-term care. Tragically, many plane accidents could have been avoided.
Whether the aviation accident was due to a mid-air collision or a technical error on the runway, the Dinizulu Law Group's accident attorneys will investigate every possible contributing factor and analyze all of the evidence to construct a robust case and determine liability for damages.
Common contributing factors in plane crashes include:
Pilot errors
Poor weather conditions
Violations of FAA regulations
Design or structural issues
Unsecured items in overhead storage
Faulty equipment
Burns from hot beverages
Negligent acts of flight attendants
Improper storage of hazardous cargo
Negligent acts by federal air traffic controllers
There are over 300,000 components in a large jet, and thousands of possible things that could go wrong in an aircraft. Fortunately, there are stringent guidelines for assembling and testing an airplane, as well as rigorous inspections that must be performed regularly. Unfortunately, not every aircraft operator performs the required inspections prior to every flight. Consequently, many individuals are hurt or killed because of this negligence. In such cases, the injured, or his or her survivors, may have grounds for a claim.
Aviation Damage Claims & Insurance Carriers
No matter why the disaster occurred, an aviation accident is highly likely to end in death for most aboard. In the aftermath of an airplane accident, it is extremely important for those who have been injured or lost a loved one to contact a reputable law firm with experience that have represented plaintiffs in such high-profile lawsuits. Having a lawyer on your side will help you to resist offers of settlement from the airline's defense attorneys or insurance carriers. Although such settlements may seem generous and tempting, they are hardly sufficient for the damage you have suffered.
Insurance company representatives tasked with assessing the damage in an aircraft accident are NOT your friends. These individuals are highly trained, skilled agents seeking information at your most vulnerable point – and while the questions may seem innocent at the time, anything you say could be used against you with dire consequences. When your statements are taken to court, they will be used to try and minimize the compensation to which you are entitled.
Along these lines, it is highly important NOT to sign any paperwork provided by the negligent party or their representatives without consulting an attorney. Any offer of settlement will be considerably less than that which could be obtained in the courtroom.
Contact Our Skilled  Chicago Accident Attorneys
The laws governing the skies are complex. That is why it takes a seasoned legal team to successfully represent victims of aviation accidents. The Dinizulu Law Group, Ltd. has the trial experience and legal resources to tackle the detail-oriented litigation required in cases against airlines and private aviation companies.
Our Chicago personal injury attorneys review all relevant government reports and conduct an independent investigation of the incident to thoroughly understand the circumstances of our client's injuries. We also make contact with the NTSB within hours of being retained.
If you need legal advice related to injuries or the loss of a loved one in an aviation accident, our personal injury attorneys can give you answers in a free, confidential consultation. We are proud of our history of success in representing victims like you.