A trucker's job isn't an easy one. Having to drive for days on end without being able to see their family and succumbing to an inconsistent and sometimes unhealthy diet makes a trucker's life a little tougher. Those endless days on what seems like a never-ending road is hard on the eyes and body which means they need to be taking care of their health. Diet and rest are two key things every trucker need to take care of.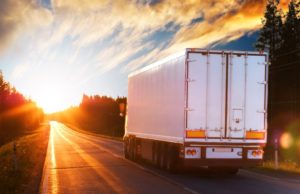 However, the truth is most truckers don't get enough rest. Many work longer hours than they should and many compromise their health by eating and drinking food and beverages filled witmake them sluh caffeine and other unhealthy ingredients that could cause them to burnout.. There shouldn't be fatigued truck drivers on the road.This endangers everyone from truck drivers themselves, to car drivers and their passengers, and also pedestrians and bicyclists.
The Centers for Disease Control and Prevention reports approximatelys 72,000 accidents occurring in 2013 alone were caused by drowsy drivers.
If you are a trucker in the state of Illinois, here are some helpful tips that will keep you energized throughout the day and contribute to leading a healthier lifestyle.
Stop at a local grocer or choose a healthier alternative at a gas station. Some things you can eat and take on the go with you include:
Pre-washed bags of lettuce and spinach
Pre-washed and cut vegetables
Pre-washed cut fruit
Grilled meat such as chicken and turkey breasts. You can purchase a small portable grill and bring it with you so that you have access to a nutritious meal while on the go.
Get an adequate amount of rest. If you are supposed to be sleeping in between shifts, be sure you are using this time exactly for that. Because the cab of your truck is your designated area to sleep, be sure you have what you need so that you can be comfortable. The Federal Motor Carrier Safety Administration has already established what must be included in this sleeper. Be sure to invest in a quality mattress so that your rest and body aren't compromised for the next shift.
Have things available to occupy your mind. Driving to and from one destination to the next can become rather boring and even tiresome so try adding something new to the mix. For instance, consider purchasing some audio books, language tapes, or download some music apps that allow you to listen to something rather than focus on the long drive ahead of you. But remember to have everything in place prior to taking. You shouldn't be distracted while driving. Distracted driving significantly increases the risk of causing a truck collision.
[Source: J.R.C. Transportation, Inc.].
With a healthier diet and more rest, you are fueling your body properly and increasing the chances of being able to drive cautiously and alert as opposed to sleepy and fatigued..
Now, if you are a trucker who was hurt in a collision in Chicago due to being fatigued or overworked,call the Dinizulu Law Group, Ltd. and speak with one of our skilled truck accident attorneys. We want to make sure you are aware of what your rights are when you are hurt in a truck accident injury  and that you understand what forms of compensation you may be entitled to as a result of the accident. Call 1-312-384-1920 and tell us what happened. Our truck crash attorneys in Chicago have over 50 years of combined experience and we are here to help you.