Summer vacation will start in just a few weeks for many Chicago teens and many families will be preparing to take their long-anticipated vacations. While the summer is known to be that time of year where we can soak up some sun, spend quality time with family, and enjoy the outdoors a little more, it is also known for something else. Although the summertime has its perks, it also has its downfalls. Apparently, summer is known to be one of the most dangerous times of year for all drivers. What makes summer more dangerous than other seasons such as winter you might wonder? Here are the reasons: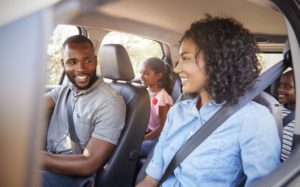 More teen drivers on the road. According to Esurance, there is an increased amount of teen drivers on the road during the summer. Unfortunately, this means that the roadway becomes more dangerous for all other motorists and commercial trucker drivers as teens are inexperienced and still learning how to operate a motor vehicle. The Centers for Disease Control and Prevention (CDC) said that in 2015 alone, 2,333 teens in the U.S. between the ages of 16-19 were killed in auto accidents and 235,845 were treated in emergency departments for the injuries they sustained. What this data revealed was that six teens ages 16-19 died every day from motor vehicle injuries in that year alone. Therefore, with more teens on the roads, accidents are more likely to occur.
Tire blowouts. If you weren't aware, the hot weather causes the air inside your tires to expand which not only leads to tire blowouts but also worn-out wheels. According to AAA, "summer heat takes a toll on vehicles, causing overheating engines, tire blowouts, and dead batteries." With the cooler weather coming to an end and the warmer weather quickly approaching, be sure to check your tire pressure to ensure that it meets your vehicle's recommended PSI to help prevent a tire blowout. 
More construction work being done. Summertime is a popular time for roadway construction. That means large trucks are transporting materials to and from job sites and there is a lot of movement going on at these construction zones. It is important to drive cautiously around a truck that is transporting heavy materials as sometimes these fall off and hit nearby vehicles.
More bicyclists and motorcyclists are out on the roads. With winter being too cold and spring having intermittent rain showers, the summertime gives bicyclists the opportunity to get out more and enjoy the warm, dry weather. Unfortunately, not always are these travelers the easiest to spot. B on the lookout for bikers as you can expect to see more in your city and nearby areas.
While it is important that you enjoy your time this summer, whether you plan on spending it vacationing or relaxing by the poolside, you also need to be cognizant of the dangers you are exposed to while out driving.
In the event you were recently involved in a car or truck collision near Chicago, IL, contact the personal injury lawyers at Dinizulu Law Group, Ltd. here in Chicago. A vehicle accident can have devastating effects on a person and their family and it is important you get all the support you need during this tough time. At the Dinizulu Law Group, Ltd. we fight to get you the maximum compensation you deserve for your injuries. Check out our page to see how we have helped people just like you.  You can reach the Dinizulu Law Group, Ltd. at:
221 North LaSalle, Suite 1100
Chicago, IL 60601
1-312-384-1920