There is no doubt that being an around-the-clock caregiver is a tough and challenging job, especially when the holidays roll around. The fact is, many of the individuals working in these facilities are looking to spend time with their own families, not the relatives of others, and might be putting more of their attention on things that could result in your loved one being neglected. While we can all agree that everyone should get the opportunity to spend Christmas or New Year's Eve with those they love rather than have to work, the holidays don't excuse a nursing home worker from their duties of providing care and assistance to those they are responsible for.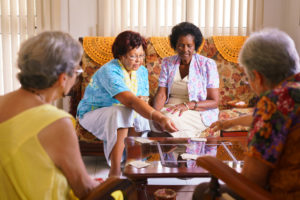 So, in an effort to help reduce the chances of your loved one becoming the victim of neglect, below we are sharing a few signs WebMD has highlighted that you need to be aware of that might indicate your loved one isn't getting the attention and/or care they not only require, but also deserve.
He/she is messy or unclean. They may have dirty fingernails or clothes, disheveled hair, or skin rashes. If you begin to notice your loved one has an odor, it might be an indicator that they aren't being bathed regularly as well.
He/she appears to be losing weight suddenly or doesn't seem to be hungry anymore. Nursing home residents are already susceptible to neglect as most facilities are understaffed. But when you couple an understaffed home with workers who aren't too concerned about the residents they are caring for as their attention is more focused on the upcoming holidays, it only makes matters worse for residents. That means aside from forgoing a bath or receiving clean clothes and blankets, a nursing home resident may even go to bed hungry or skip their midday meal all because the worker who is expected to care for them is not.
You notice bedsores have begun to develop. While bedsores are common among nursing home residents, especially those that are immobile and cannot move on their own, it can be a red flag that your loved one is being left in the same spot for a significant period of time. The fact is, nursing home workers are required to move immobile residents around or help them shift positions to prevent bedsores from developing, although many neglect to do so. And when a bedsore develops and is left untreated, the

Mayo Clinic

says that it can turn into a life-threatening condition that could lead to one or more of the following complications:
Cellulitis. "Cellulitis is an infection of the skin and connected soft tissues" and "it can cause warmth, redness, and swelling of the affected area."
Bone and joint infections. An infection that develops from a pressure sore "can burrow into joints and bones. Joint infections (septic arthritis) can damage cartilage and tissue" and "bone infections (osteomyelitis) can reduce the function of joints and limbs."
Cancer. If the bedsore is left untreated for too long, it could potentially lead to a nonhealing wound, also called Marjolin's ulcers, to develop into a type of squamous cell carcinoma.
Sepsis. Although the Mayo Clinic says this is a rare possibility, a bedsore, also referred to as a skin ulcer, can lead to sepsis.
Your loved one has missing or broken dentures, eyeglasses, hearing aids, or walker. Given that these are some of the essential items that assist your loved one when completing their day to day tasks, they should be well kept, not missing or damaged.
If you notice any of the signs mentioned above, it would be best to address the issue with your loved one to find out what is going on and if they are receiving the care and service they require. In the event their medical conditions interfere with them being able to give you an accurate description of why one or more of the signs mentioned above are present, speak with someone higher up. And if at any point you feel your loved one isn't safe or is being cared for properly, it might be best to remove them from this setting until you can get to the bottom of the matter.
Now, if you have proof that your aging relative is the victim of nursing home neglect but aren't sure how to approach the situation, contact a Chicago, IL nursing home abuse lawyer at Dinizulu Law Group, Ltd. Our team of dedicated attorneys are more than qualified to provide you with some helpful advice that will allow you to make an informed decision as to how you should handle the matter. And in the event you wish to take legal action against the facility and/or a staff member, we can help you with that as well.

Dinizulu Law Group, Ltd. can be reached at:
221 North La Salle Drive, Suite 1100
Chicago, IL 60601
1-312-384-1920