Elder abuse comes in many forms, all of which you should be familiar with if you have a loved one living in a nursing home. The most common types of elder abuse include: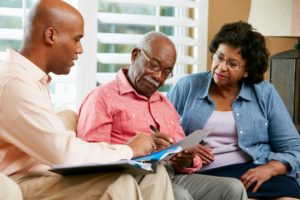 Physical abuse
Sexual abuse
Emotional or psychological abuse
Neglect
Abandonment
Financial or material exploitation
Self-neglect
[Source: Consumer Financial Protection Bureau].
Sadly, elderly individuals are often taken advantage of by healthcare workers, caretakers, and even certain relatives because of their limited abilities. That is why it is imperative to watch out for any red flags that might indicate your loved one might be a victim of abuse or neglect. One type of abuse that is often overlooked is financial or material exploitation. Many residents who go to live in a nursing home still have valuable assets and even currency and when a nursing home staff member learns of this, they sometimes try and use these assets to their advantage.
Financial exploitation generally occurs in one of two ways. The first involves a person who has a legal obligation to handle the elderly individual's finances yet "fails to use the funds for necessities like food, clothing, shelter, and healthcare, putting the vulnerable adult at risk of harm." The second form involves someone who has no legal obligation to take care of the elderly person's money but does so by misleading, lying, or gaining the adult's trust by "professing love and promising to care for him/her if they can just share their bank account."
In recent news, it was reported that nursing home managers in an Illinois nursing home facility sold a resident's home and only gave her $2,000 of what the house sold for. The woman is now suing St. Anthony's Nursing and Rehabilitation Center in Rock Island along with two former employees after they sold her home against her wishes, and then shortchanged her by giving her only a tiny portion of the profits. The woman says that she was deceived by the workers after they told her that she had to sign the forms to sell her home in order to stay on Medicaid and then proceeded to sell the home for $95,000.
The facility was eventually fined $2,200 for allowing financial abuse and the resident is seeking damages in excess of $50,000 from the facility and the two workers.
While this resident was fortunate enough to recognize that she was the victim of financial exploitation, there are many others who aren't aware they are being taken advantage of. If you think that a staff member at a nursing home or other long-term care facility might be using your loved one's assets to their advantage, there's help available. The Chicago nursing home abuse attorneys at the Dinizulu Law Group, Ltd. fight for you. We get those who harm you or your loved one held accountable for this actions.
Contact the Dinizulu Law Group, Ltd. at:
221 North LaSalle, Suite 1100
Chicago, IL 60601
1-312-384-1920