Have you been visiting your mom, dad, or grandparent at a nursing home they are currently living in but have noticed that the conditions aren't what they used to be? Are you under the impression that your loved one might not be receiving the care you expected? If so, you may need to voice your concerns and let the nursing home administrators know you aren't satisfied with the care your loved one is receiving. While many people don't want to complain because they believe the nursing home staff would retaliate their frustrations on the patients themselves, this is a necessary step that can save your  loved one from harm. You don't want to sit back and ignore the problems you are seeing.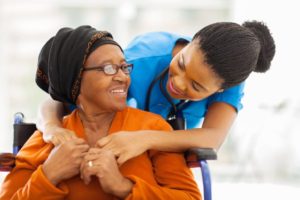 Addressing the problem head oncan help prevent it from becoming an ongoing issue. Like you, many are concerned with when they should complain and how they should go about it. Here are some tips from the Courier & Press that will help guide you on when and who to talk to when dealing with certain circumstances.
Consider speaking with the Director of Nursing (DON) when:
It takes 15 minutes or longer for a nurse to answer your family member's call light.
You notice that a staff member or resident is being unkind or disrespectful to your loved one.
Your loved one's medications are not being administered on time.
Their possessions are missing.
He/she is not getting showers and/or bed linens and undergarments aren't being changed, if and when necessary.
You want to request a plan of care meeting. Although these are generally planned every three months, your loved one can request one at any time and you are entitled to attend.
Consider speaking with the Dietary Manager when:
Your loved one's meals are late on a consistent basis.
The food they receive is cold or inedible.
He/she is being given food they have already said they didn't like.
No food alternative is being offered in lieu of the food they indicated they don't like.
Meals are being missed.
Talk with the social worker at the facility or activities director if:
Your loved one is continuously left out of social events and activities.
He/she does not enjoy the activities offered and is interested in doing other things.
The goal of reporting your concern is not merely to complain about the facility or staff. Rather, you are just looking out for the best interest of your family member. Sometimes, though, staff might take the complaint offensively and choose to not address it, even when they say they will. And if you feel as though your complaints are not being taken seriously and your loved one is being subjected to harmful conditions, you may want to consider contacting Dinizulu Law Group Ltd. in Chicago and have one of our trusted nursing home abuse and neglect lawyers assist you with the matter. Having an attorney speak on your behalf increases the chances of the issue getting resolved.Call 1-312-384-1920 to set up a free, intial consultation with a Chicago nursing home abuse lawyer now.