There are many types of accidents. Read More below to see a breakdown on accident types and call us today if you have any questions about your potential case.
Aviation Accidents
Car Accidents
Boating Accidents
Bus Accidents
Construction Site Accidents
Pedestrian Accidents
Crosswalk Accidents
Train Accidents
Aviation Accidents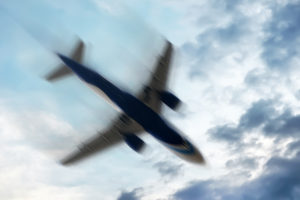 On average, 11.5 people are seriously hurt in a U.S. air carrier-related accident each year; approximately 72 are killed, according to the National Transportation Safety Board (NTSB). Of course, there are thousands more taking to American skies in other aircraft, and preliminary NTSB data for 2011 show that more than 3,100 aviation accidents occurred in the United States.
Travelers across the U.S. are injured in private and commercial airplanes because of a number of factors. Although traveling by plane is extremely convenient and statistically safer than traveling by car, there are inherent risks to this mode of transportation, and when an airplane crash happens, it's highly likely the damage will be severe. When airplane accidents happen, the victims and their families deserve justice.
Commercial airplanes are governed by the regulations affecting common carriers and are governed by different laws and protocols than are private airplanes or other private vehicles. A common carrier is a business that transports persons or cargo for compensation. Both Federal and State regulations govern the activities of common carriers such as buses, trains, and airplanes.
As a general rule, a common carrier is held to a higher standard of care than is a private party. They must have both the skill and the training to transport passengers and cargo, and more than reasonable care must be exercised.
When an airplane crashes, the first area of information must be to discover what caused the crash. This can be difficult, since much evidence can be destroyed, including signs of mechanical failure or pilot error. Some of the causes of crashes include pilot error, which is the most frequent cause; design flaws; mechanical failure; and extreme weather conditions. It is vital that whatever evidence is available be collected and studied so that the cause of the crash can be determined. Once this is done, it will be possible to decide if basis for a lawsuit exists.
The Dinizulu Law Group, Ltd. is determined to pursue justice for all victims of aviation injuries. We recognize that in many aircraft accidents, the cause often has to do with pilot errors, product failure, faulty aircraft parts or negligent maintenance of the aircraft. If your family has been devastated by such a tragedy, we may be able to help.
Find out about your legal options today – simply fill out the FREE Case Review form and we will contact you. It's 100% confidential.
Causes of Aviation Accidents
Unfortunately, most aircraft accidents end in death. Some victims are able to escape with serious injuries, but may require long-term care. Tragically, many plane accidents could have been avoided.
Whether the aviation accident was due to a mid-air collision or a technical error on the runway, the Dinizulu Law Group's accident attorneys will investigate every possible contributing factor and analyze all of the evidence to construct a robust case and determine liability for damages.
Common contributing factors in plane crashes include:
Pilot errors
Poor weather conditions
Violations of FAA regulations
Design or structural issues
Unsecured items in overhead storage
Faulty equipment
Burns from hot beverages
Negligent acts of flight attendants
Improper storage of hazardous cargo
Negligent acts by federal air traffic controllers
There are over 300,000 components in a large jet, and thousands of possible things that could go wrong in an aircraft. Fortunately, there are stringent guidelines for assembling and testing an airplane, as well as rigorous inspections that must be performed regularly. Unfortunately, not every aircraft operator performs the required inspections prior to every flight. Consequently, many individuals are hurt or killed because of this negligence. In such cases, the injured, or his or her survivors, may have grounds for a claim.
Aviation Damage Claims & Insurance Carriers
No matter why the disaster occurred, an aviation accident is highly likely to end in death for most aboard. In the aftermath of an airplane accident, it is extremely important for those who have been injured or lost a loved one to contact a reputable law firm with experience that have represented plaintiffs in such high-profile lawsuits. Having a lawyer on your side will help you to resist offers of settlement from the airline's defense attorneys or insurance carriers. Although such settlements may seem generous and tempting, they are hardly sufficient for the damage you have suffered.
Insurance company representatives tasked with assessing the damage in an aircraft accident are NOT your friends. These individuals are highly trained, skilled agents seeking information at your most vulnerable point – and while the questions may seem innocent at the time, anything you say could be used against you with dire consequences. When your statements are taken to court, they will be used to try and minimize the compensation to which you are entitled.
Along these lines, it is highly important NOT to sign any paperwork provided by the negligent party or their representatives without consulting an attorney. Any offer of settlement will be considerably less than that which could be obtained in the courtroom.
Contact Our Skilled  Chicago Accident Attorneys
The laws governing the skies are complex. That is why it takes a seasoned legal team to successfully represent victims of aviation accidents. The Dinizulu Law Group, Ltd. has the trial experience and legal resources to tackle the detail-oriented litigation required in cases against airlines and private aviation companies.
Our Chicago personal injury attorneys review all relevant government reports and conduct an independent investigation of the incident to thoroughly understand the circumstances of our client's injuries. We also make contact with the NTSB within hours of being retained.
If you need legal advice related to injuries or the loss of a loved one in an aviation accident, our personal injury attorneys can give you answers in a free, confidential consultation. We are proud of our history of success in representing victims like you.
Car Accidents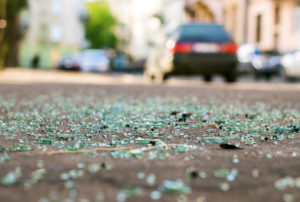 Our Chicago Car Accident Lawyers Help Illinois Accident Victims Through the Legal Process
After a car accident, you need experienced and capable legal representation to protect your rights. The auto accident lawyers in Chicago with the Dinizulu Law Group, Ltd. help car accident victims receive the compensation they are entitled to under the law.
Car accident collisions often cause extraordinary suffering and loss to motorists, passengers and pedestrians, in addition to property damage to the vehicles involved in the accident. In Chicago and throughout Illinois, injured victims face medical bills, lost wages, pain, suffering and loss of enjoyment of life. Family members suffer economic loss, mental anguish and loss of companionship. In the event of a wrongful death, families are torn apart without warning.
At the Dinizulu Law Group, we understand that you may be hurting and confused after an accident. Our Chicago car accident attorneys work diligently to get you the compensation you deserve after an accident, and our results speak for themselves.
Dinizulu Law Group Fights for You
At the Dinizulu Law Group, Ltd. in Chicago, our lawyers promptly investigate your car accident. Consulting with our experienced IL car accident lawyers immediately following an accident involving severe injury or a death can greatly improve your chances of receiving compensation. Often times within the first week following a car accident important physical evidence is lost and witnesses become unavailable.
You should also talk to our Chicago car accident lawyers before speaking to insurance investigators or adjusters, or before giving recorded or written statements to anyone, including anyone at the scene of the accident. Our car accident lawyers in Chicago can also help make arrangements with your health care providers to defer payment until you receive compensation for your injuries.
The lawyers with the Dinizulu Law Group, Ltd. offer home and hospital visits for anyone seriously injured in a car accident if requested. While most cases are settled before trial, our Chicago car accident lawyers can and will go to trial if necessary to protect you and your loved ones. Contact us to discuss your case.
Preserving your legal rights after a car accident
Frequently asked questions regarding car accidents
Frequently asked questions regarding property damage resulting from a car accident
Chicago Rules of the Road
Illinois Car Accidents: Preserving Your Legal Rights
If you have been involved in a car accident in Chicago or any other Illinois city, there are a number of things you can do to preserve your legal rights. First and foremost, you should not delay in consulting our Illinois car accident lawyers if you have been injured or have suffered property damage as a result of the car accident. Beyond that, the following is a summary of some of the most important things you can do to protect your legal rights after a car accident:
Do not leave the scene of your Illinois accident:
If you leave the scene of a car accident in Chicago or anywhere in Illinois, you may be criminally prosecuted. You are required to provide your name, address, driver's license and auto insurance information to the other driver.
Help the injured:
If someone has been injured in the car accident, you should call for paramedics and assist them to the extent you are qualified. Before calling for the ambulance, be prepared to give an accurate location of the car accident, motorcycle accident or trucking accident and an assessment of the number of individuals injured in the wreck.
Avoid additional car accidents:
Make sure your vehicle is not presenting a safety hazard to other motorists. It should be moved so that it is not obstructing traffic, if possible. You can further notify oncoming traffic to proceed with caution by setting out flares, turning on your hazard lights, and raising the hood and trunk of your vehicle.
Notify the police of the car accident:
Typically the police will prepare a report that contains various information concerning the car accident and the parties involved. While you may not be required to call the police, the car accident reports they produce could be helpful to you later.
Do not admit liability to the auto accident:
You should not admit responsibility for the car accident to the other drivers, passengers, or to the police for that matter. You may convey facts concerning how the incident occurred; however, it is best not to comment on your responsibility (or liability) for the car accident. This is a legal matter that is not always readily and easily ascertainable. Judgment as to who was at fault should be reserved for a later time and be based on a number of factors. Our car accident lawyers can help you make sense of the often confusing situation after an accident, but you should not admit to any liability.
Obtain information from the other drivers and pedestrians involved in the accident:
You should get the names, addresses, and telephone numbers of any individuals involved in the car accident, as well as any witnesses to the accident. You should also obtain the name of the insurance company and policy number of the other drivers involved. If possible, you may take photographs to document the car accident scene including skid marks, road obstructions, and damage to the vehicles. Make note of any statements made by other parties involved in the car accident.
Notify your insurance company of the car accident:
If you do not give your insurance company prompt notice, your policy may provide that the insurance company may deny coverage for your car accident claim. Accordingly, you should give your insurance company notice by way of telephone and by written notice that provides you a means of proving such notice was given, such as by facsimile or by certified mail. You should provide your insurance company with all information they request concerning the facts of the car accident. Our car accident lawyers can help you properly notify your insurance company if you contact us immediately following your accident.
Consult a doctor if you have been injured in the auto accident:
If you believe that you may have been injured in a car accident, you should consult a doctor. Some injuries may not manifest themselves until some period of time after the accident; therefore, the mere fact that you do not immediately feel as though you have been injured does not necessarily mean that no injury has occurred. You should consult your insurance agent to see if the cost of seeing a doctor in connection with the car accident is covered by your insurance policy. You should not settle your claims for injuries arising from the car accident until you have been advised by your doctor as to the full extent of your injuries.
Contact our car accident lawyers.
You should consult with us promptly to be advised as to your legal rights. In Illinois, you have a two-year statute of limitation period in which you must file a lawsuit or be forever barred from bringing such a claim. Fact-sensitive exceptions to this rule may apply; therefore, our Illinois car accident lawyers should be consulted as soon as possible. Furthermore, by promptly notifying our lawyers, your car accident can be investigated by us in a timely manner, the events are fresh in witnesses' minds, and the evidence is capable of being documented by way of photograph or otherwise.
Boating Accidents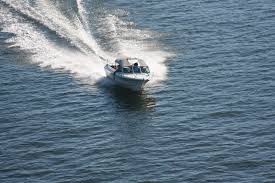 Illinois Boating Accident Lawyers Fighting For You
Each year thousands of people are injured in boating accidents. Accidents can occur in a variety of situations ranging from ocean-going commercial and cruise line vessels to small pleasure craft on our navigable waterways. When referring to a motor vehicle accident we often refer to the "Rules of the Road" in order to determine what each person's responsibilities were regarding the safe operation of their vehicle. Similarly, there are rules established by the Coast Guard and various state agencies that outline the rules for safe boating.
It is important to seek legal counsel after being involved in an Illinois boating accident. There may be a number of parties liable for the boating crash. A skilled boating attorney can review the accident claim and determine who is at fault.
Causes of Illinois Boating Accidents
Watercraft accidents can be caused by a variety factors, but the majority of accidents are caused by the boat operator's negligence. Here is a list of the top 10 causes of boat accidents in 2008:
Passenger/Skier behavior
Operator inattention
Operator inexperience
Reckless operation
Weather
Alcohol use
Congested water
Equipment failure
Failure to yield
Hazardous waters (strong currents)
Types of Illinois Boat Accidents
The primary boat and watercraft accident types that lead to injury or death include:
Collision with another vessel
Skier mishap
Collision with a fixed object
Flooding or swamping
Grounding
Falls overboard
Falls in the boat
Being struck by a motor or propeller
If you have lost a loved one in watercraft accident, you may be eligible to file a wrongful death lawsuit against the negligent party. In the state of Illinois, there is a statue of limitations for filing a wrongful death lawsuit, so it's imperative to speak with a boat accident lawyer as soon as possible.
Chicago Boat Accident Lawyer
If you or loved one has been injured in an Illinois boat accident, you may be able to seek compensation for medical expenses, lost wages, property damage and other losses. The boat accident attorneys at the Dinizulu Law Group, Ltd. have the knowledge and resources to handle your legal claim. After reviewing your claim, the attorneys will guide you on your next course of action. To receive a free case review today, complete the online contact form on this page.
If you or a loved one has suffered as a result of a boating accident, call the accident lawyer Chicago at the Dinizulu Law Group, Ltd. at (312) 384-1920 to advocate on your behalf. The initial consultation is free of charge, and if we agree to handle your case, we will work on a contingency fee basis, which means we get paid for our services only if there is a monetary recovery of funds. In many cases a lawsuit must be filed before an applicable expiration date, known as a statute of limitations so please call right away to ensure that you do not waive your right to possible compensation.
Bus Accidents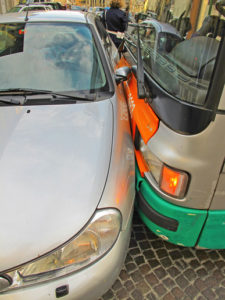 Chicago Lawyers Help Bus Accident Victims
Illinois Bus Accident Lawyers Seek Victim Justice
Illinois is home to many different people and many different modes of transportation. One of the regular sights on the roads in and around the state is that of traveling buses of all types. People use buses for transportation for many different reasons, but the unfortunate reality that relates to this mode of transportation is that bus accidents happen on our roadways, and when they do, the results can be disastrous. Illinois bus accident victims are advised to retain the services of an experienced Chicago auto accident attorney to help sort through this kind of complicated legal scenario.
Below you'll find information regarding the different types of buses that make their way through Illinois, the different theories of liability that could arise if people are injured in an IL bus accident and finally how you should proceed if you or someone you love has been injured in a bus accident in Illinois.
Different Modes of Busing Transportation in Illinois
There are many different types of buses and group transportation vehicles in IL that can be used for different purposes. Below you'll find a brief description of each and information regarding which type of entity is generally responsible for these different types of vehicles and how our bus accident lawyers can be of assistance.
Public / City Transit Buses
Public city transit buses are generally put into use for local commuting traffic. They are designed for people who either do not have private transportation or for those who choose to avoid using private transportation as they make their way around town. While the responsibility for these vehicles can vary somewhat, they are usually operated by the local municipality or a bus company that's been hired by the municipality to manage them.
Private / Charter Buses
Private charter buses are usually hired by a group of people to provide transportation for a particular and limited purpose. Examples of reasons for hiring a chartered private bus include corporate outings, sporting events and other occasions in which it would be wise for those attending to not be driving. These vehicles are owned and operated by a private company.
Tour Buses
Tour buses are used to provide transportation for those who wish to travel either to a particular faraway destination or to tour several locations. They are generally hired by a group of people with similar interests or by a company that organizes these tours professionally, and these vehicles are operated by the bus company.
School Buses
School buses are a daily sight in Illinois. They are used to transport children to and from school every morning and afternoon and to take groups of students to school events and sporting events. School buses can be owned by the school board or school district, or they can be owned by a private company that contracts with the school board.
15-Passenger Vans
Groups of people will use a 15-passenger van in order to provide transportation for a smaller group of people than would create the need for a larger bus. These vehicles are typically rented from a rental company and driven by a designated driver from the group.
Theories of Liability for Illinois Bus Accidents
Generally, legal liability in a personal injury lawsuit for a bus accident will depend on which party or parties are responsible for the buses at issue. Given that these ownership/responsibility scenarios can be different, so too are the potential defendants if a bus accident occurs and people are injured. Below is a breakdown of these potential defendants in a lawsuit for personal injury caused by a bus accident and how our Illinois accident lawyers can help.
Public / City Bus Accidents
If a public transit city bus is involved in an accident and the bus is at least partially at fault for the damages that result, the likely defendant for the subsequent claims would usually be the city or municipality that owns these vehicles and collects the revenue for their use.
Private / Charter Bus Accidents
A private chartered bus is generally owned by a private company, and if a charter bus accident occurs, either the busing company or the bus driver could be named as defendants in a legal action. It's also possible that both parties could be defendants in this situation.
Tour Bus Accidents
These kind of buses present a potentially complicated scenario in terms of liability if a tour bus accident occurs. If the tour bus was hired directly by a group of people, then the tour bus company and/or the driver could be liable. If a social club or some intermediary hired the bus on behalf of those who used it, that intermediary could also be a defendant in a legal action.
School Bus Accidents
Usually, when a school bus accident occurs, the school board or school district would be named as a defendant. However, if the school board contracted with a private company to handle this transportation, the private school bus company could also be named as a defendant along with the school board or district.
15-Passenger Van Accidents
15-passenger vans are usually rented by a group of people from a rental or leasing company. If an van accident occurs in this sort of vehicle, the defendants could be the rental company and/or the driver of the van when the accident occurred.
How Illinois Bus Accident Lawyers Can Help
Naming the proper defendants to a lawsuit and pursuing the bus accident claim under the proper theory can be critical for any legal claim. When it comes to bus accidents in Illinois, this can be a complicated analysis. Rather than attempt to handle this situation alone, contact the experienced Illinois auto accident lawyers at the Dinizulu Law Group, Ltd. today to schedule a free initial consultation.
Construction Site Accidents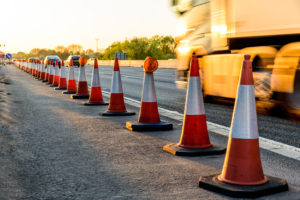 Construction Site Accident Injuries in IL – Lawsuits and Liability
Illinois Construction Site Accident Lawyers Helping You Recover
Construction work is difficult physically, and it's also one of the most dangerous occupations in existence in the United States. As a result, injuries and fatalities at construction sites happen with alarming frequency. When these situations arise, those who are injured need the help of experienced Illinois construction site accident attorneys to make sure that all of the different legal realities are properly handled on behalf of the client.
Below you'll find information including some basic statistics regarding construction site accidents, common causes and types of construction site accidents, the different bodies of law that could govern an Illinois construction site accident and finally how you should proceed in contacting a Chicago personal injury lawyer if you or someone you love has been harmed at a construction site in Illinois.
Construction Site Accident Statistics and Common Causes
While the number of Illinois construction site accidents that have occurred has gone down in recent years, most feel that this is because of the collapsing economy and dearth of new construction as opposed to the construction boom that existed in the early part of the 21st Century. That said, there are still more than 1,000 deaths every year in the United States from construction accidents, and several hundred thousand people are injured at construction sites to the point that they miss some work that same year.
There are several leading causes of construction site accidents, and the most common cause by far is falling. A large portion of IL construction site falls that lead to injuries or fatalities occur from high places where the ground on which workers are standing is not stable, leading to the obvious and troubling consequences. Below are other leading causes of construction site accidents:
Scaffolding accidents
Electrocution
Crane accidents
Hazardous waste spills
Welding rod accidents
Defective or malfunctioning equipment
Noise damage
While there are surely many more causes of construction site accidents in Illinois, those mentioned above represent the most common types reported. The fact is that construction workers encounter a high level of risk every time they report for work.
Illinois Construction Site Accident Lawsuits
When an Illinois construction site accident occurs, there are two bodies of law that could be relevant to the situation. The first is the law of worker's compensation, which in Illinois entitles someone who has been injured on the job to receive benefits that include funds paid out to the worker, medical care necessary to rehabilitate the worker and perhaps vocational training and other, more long-term needs if the worker is injured badly enough that he or she will not be able to regain the construction work job.
In many situations, worker's compensation law will govern these accidents, but even within this relatively clear-cut body of law challenges can arise. Claims can be denied, other issues such as allegations of preexisting conditions can arise and the worker can be left to suffer with little or no help until the situation is resolved. It is in these situations where help from an Illinois worker's compensation lawyer can be essential to coming to a fair conclusion in regards to the claim at hand.
Despite the apparent jurisdiction of worker's compensation law in Illinois, there are situations in which the laws of personal injury can and will be relevant to a legal claim that's filed after the injuries have occurred. Below is a look at two examples of these types of situations and how our Chicago personal Injury lawyers can help:
Third Party Liability
Not all construction site accidents and injuries are caused by the worker's employer or co-workers in the normal course of work. There are situations in which a third party could come onto the scene and cause an accident that leads to the potential for liability based on a claim for personal injury. An example of a third party liability situation would be when a trucking company driver negligently dumps a load of supplies in a location that injures a construction worker.
Failure to Maintain a Safe Premises by the Employer
While worker's compensation law tends to govern the law of injured workers, employers can still be sued for personal injury damages if the work site was kept in such a state that it was unreasonably dangerous. While most people understand that there are dangers involved with any Illinois construction site, negligence can still occur by way of lack of supervision, lack of providing safe equipment and other situations in which the employer should have taken reasonable steps to protect the workers involved.
How an Illinois Construction Site Accident Lawyer Can Help
Ultimately, if you or someone you love has been harmed in a construction site accident in Illinois, you need legal help to make the complicated determinations discussed above. Contact the Chicago construction site accident lawyers at the Dinizulu Law Group, Ltd. today to schedule a free initial consultation.
Pedestrian Accidents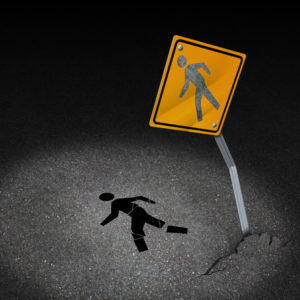 Illinois Pedestrian Accident Statistics
Unfortunately, pedestrian accidents in Illinois occur at an alarming rate. Statistics indicate that every year, more than 1,500 such accidents occur, and these accidents lead to more than 1,300 injuries and more than 100 fatalities. These overall numbers have remained relatively steady in recent years, and there is no indication that they will decline.
In addition to the overall statistics, the numbers regarding crosswalk accidents in IL are also extremely troubling. Of those people who are injured in Illinois pedestrian accidents, many of them occur when someone is crossing a road. These constitute Illinois crosswalk accidents, and in addition to the number of injuries that result from these incidents, a number of the fatalities that occur in Illinois also take place while someone is crossing the road.
It should come as no surprise that the volume of Illinois pedestrian accidents is much higher during the daylight hours, but the percentage of these accidents that leads to serious harm is higher at night. Hundreds of people are injured in Illinois pedestrian accidents on an annual basis during daylight hours, while less are harmed at night.
Crosswalk Accidents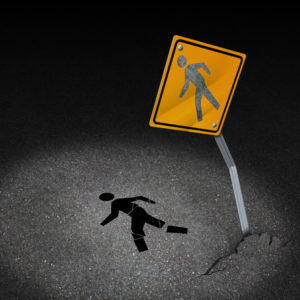 Our Chicago Attorneys Prove Negligence in Illinois Crosswalk Accidents
When someone is injured or worse in an Illinois crosswalk accident, those who have been harmed may have legal options that include the filing of a personal injury lawsuit with the help of our Chicago pedestrian injury attorneys. If such a lawsuit was filed, its result would largely depend on the specifics of the accident at issue. Those specifics will determine which party was negligent and whether comparative negligence is an appropriate consideration.
Crosswalks in Illinois are governed by basic traffic laws. Pedestrians are allowed to cross the streets of the state inside these crosswalks and when a traffic signal allows them with the opportunity to cross. At intersections where there is no electronic traffic signal, pedestrians are expected to look both ways for oncoming traffic and to cross inside the crosswalk when it's safe to do so. Once a person is in a crosswalk and has entered it reasonably, that pedestrian has right-of-way relative to other travelers.
This tends to be where Illinois crosswalk accidents occur at the highest rate. Motorists may assume that either they have the right-of-way in a particular situation or they misjudge whether or not their continuation on their path will put the pedestrian in danger. Another leading cause of Illinois crosswalk accidents is when a motorist is distracted and does not see a pedestrian in the street. This type of gross negligence absolutely deserves the attention of an effective accident injury attorney.
IL Crosswalk Accidents – Damages and Comparative Negligence
Generally, the situations described above would lead to a finding that the person that harmed a pedestrian was negligent, and would entitle the pedestrian to obtain damages that compensate him or her for medical costs, lost income and pain and suffering among other forms of compensation. However, there are situations where both a pedestrian and a motorist are at fault for an accident.
When this situation arises, Illinois uses what's known as the comparative negligence standard. In these cases, the jury will decide which party is responsible for which percentage of the total fault, and if the defendant is liable for any of the harm the plaintiff's damages are reduced by the amount that he or she was also negligent. These cases tend to arise when a pedestrian was crossing against traffic or suddenly darted into the street without much of an opportunity for the motorist to avoid the collision.
How an Chicago Personal Injury Lawyer Can Help
Illinois crosswalk accidents, as the statistics indicate, lead to a high rate of injuries and fatalities. If this includes you or someone you love, you need to seek the help of IL personal injury lawyers who have been handling these sometimes-complicated cases successfully for many years. Contact the Chicago law firm Dinizulu Law Group, Ltd. today to schedule a free initial consultation
Train Accidents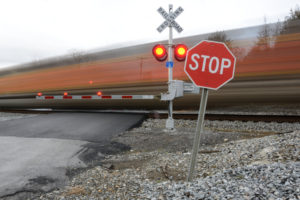 Train Accidents Lawyers Helping Sort through Complicated Issues
Traveling and shipping goods by train has always been a mainstay of the American economy. Train lines extend from one border to the other, and there is no indication that this mode of transportation will ever go away. Unfortunately, train accidents also happen from time to time, and the results of such occurrences are always devastating. If you find yourself in this situation, you need the help of an experienced Chicago accident lawyer.
Below you'll find information regarding train accident statistics in the United States and common causes of them, how a train accident attorney can help if you or someone you love has been injured or killed in an Illinois train accident, and finally how you should proceed if you need the assistance of a Chicago personal Injury lawyer to make sure that your legal rights are properly protected and enforced.
Train Accident Statistics and Common Causes
Train accidents occur with more frequency than most would assume in the United States, and a quick look at these statistics as reported by the Federal Railroad Administration – Office of Safety Analysis just from the calendar year of 2009 tends to support this notion. Consider the following:
2009 Train Accident Statistics in the United States
Total accidents/incidents: 10,529
Number of fatal train accidents: 666
Number of train accident fatalities: 713
Total non-fatal conditions: 7,323
These statistics are a compilation of all trains in the United States that include both traditional railroad accidents and highway-rail incidents. This results in approximately three train accidents per day in the United States alone.
Common Causes of Train Accidents in the United States
In terms of common causes of train accidents, there are some situations that arise more than others. Examples of common causes of railroad accidents and train accidents with automobiles include:
Speeding
Obstructions blocking the railroad tracks
Malfunctioning equipment including warning bells, warning lights and crossing arms
Failure to properly warn other vehicles of an approaching train by the conductor
Limited vision
Derailment
Collisions with other trains
Poorly constructed and/or poorly designed railroad crossings
While there are other causes of train accidents in the United States, the examples above tend to be disturbingly common, and each of them could be traced to some form of negligence.
How a Chicago Train Accident Lawyer Can Help
If you or someone you love has been injured in an Illinois train accident, you face a difficult struggle if you intend to enforce your legal rights by yourself. There are many reasons for this difficulty, and below are a few examples of why you should seek the help of an Illinois accident lawyer if you find yourself in this difficult situation.
Jurisdiction
Railroads are regulated by the federal government, and this means that if you've been injured by a train that carries cargo across state lines, for example, you could find yourself in federal court while enforcing your rights. Federal courts are much different than state courts and involve different rules, regulations and norms.
The Opponent
Another potential problem could arise if you or someone you love has been harmed on a commuter train. These trains tend to either be run by the local government or a private corporation, and regardless of which, these are challenging opponents. Each of them will possess an array of defense attorneys whose job it is to limit the liability their clients face.
The Proof
When someone is involved in an Illinois auto accident, it's common that he or she will be able to identify the cause of that accident in at least a preliminary manner. However, when train accidents occur, few if any passengers will understand what went wrong and which party or parties should be responsible for victim injuries. That's because most people are not familiar with the rules involved with navigating a train and most are not even aware of what's happening as the train moves along the tracks.
Compliance
As stated above, the federal government heavily regulates railroads, and trains of all types are regulated by governments of different levels. As a result, there are countless regulations involved with the proper maintenance and operation of these vehicles, and failure to meet the standards of even one of these regulations could mean that those charged with managing the train at issue are negligent. However, many people are simply not aware of all of these regulations.
Contact an Illinois Train Accident Lawyer Today to Protect Your Legal Rights
Even though asserting your rights in the aftermath of a, Illinois train accident can be extremely difficult if you do so by yourself, it does not mean that there is not help available. Contact the Chicago train accident lawyers at the law firm of https://dinizululawgroup.com today to schedule a free initial consultation, as the firm has a long track record of holding those responsible for these incidents accountable.
Chicago Motorcycle Accidents Lawyer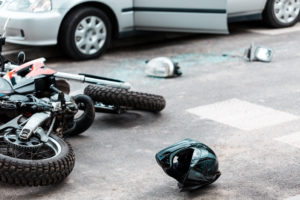 Motorcycle accidents cause a much higher incidence of death and injury per accident than do car accidents. In other words, if you are involved in a vehicular accident and you are on a motorcycle, you are 3 times more likely to be injured and 14 times more likely to be killed. Helmet laws, enacted in many states, are helping to reduce these numbers, but motorcyclists still are at greater risk of death or injury than those in passenger vehicles.
It is always wise to take precautions when riding a motorcycle, including:
• Wear a helmet and require your passengers to do so.
• Obey the traffic laws, especially in regard to speeding, passing, and following too closely.
• Remember that you are not as large or as visible as an automobile, so do all you can to increase your own visibility, such as riding with the headlight on at all times and wearing reflective clothing after dark.
• Be sure you are able to control the motorcycle while carrying a passenger and insist that the passenger obey your directions.
Road hazards have a much greater effect on a small two-wheel vehicle, so watch for bumps, cracks in the road, loose gravel or any other condition that might cause you to lose control.
If you or a loved one has suffered as a result of a motorcycle accident, call the lawyers at the Dinizulu Law Group, Ltd. at (312) 384-1920 to advocate on your behalf. The initial consultation is free of charge, and if we agree to handle your case, we will work on a contingency fee basis, which means we get paid for our services only if there is a monetary recovery of funds. In many cases a lawsuit must be filed before an applicable expiration date, known as a statute of limitations so please call right away to ensure that you do not waive your right to possible compensation.